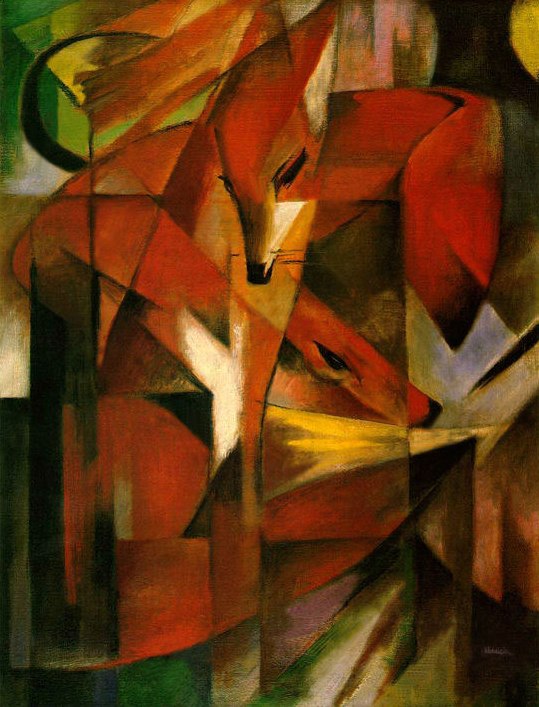 Franz Mark is a very interesting German expressionist painter, the author of many unusual works that sometimes amazed his contemporaries. It is noteworthy that the years of study at the university were almost in vain for him, because naturalism, which was emphasized in teaching, was completely uninteresting to him, even to some extent alien. Leaving his studies, he went to Paris, where he began to study very closely the works of Van Gogh, Cezanne, Gauguin and other post-impressionists. Several years later, the artist wrote a number of works in his new abstract style.
Mark Franz's painting "Foxes" depicts these beautiful shy animals in the original manner typical of this artist. The image looks like stained glass, the artist used overflows of red, green, blue colors to enhance this effect. Color chaos, however, has its own laws; in its center, you can guess the images of foxes. The color has a great symbolic meaning for the artist: some kind of game or danger threatening animals is made in red tones, Franz also used yellow and green colors. Under the green color, one can guess the forest in which the heroes of the picture live, and yellow or orange symbolizes the color of fox fur. The viewer, as if by chance, becomes a witness to a certain episode from the life of these hidden forest animals.
Year of painting: 1913.
Dimensions of the painting: 87 x 65 cm.
Material: canvas.
Writing technique: oil.
Genre: animalism.
Style: cubism.
Gallery: Kunstmuseum, Dusseldorf, Germany.