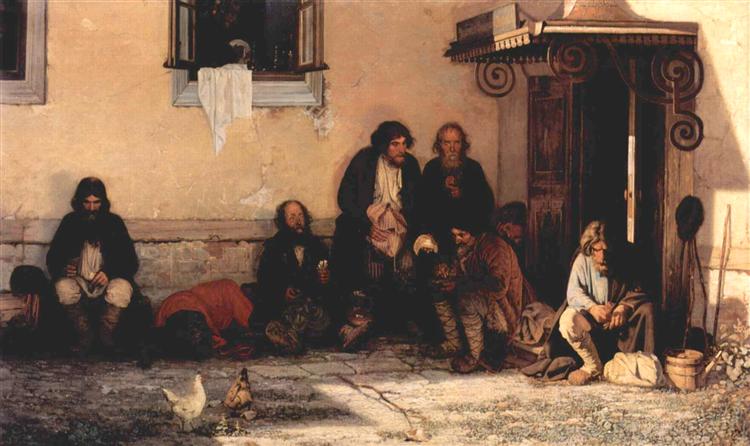 The painting by Grigory Myasoedov "Zemstvo is having lunch", painted in 1872, became his trademark. The artist depicted on canvas the post-reform Russia of that time.
The creation of local self-government bodies – zemstvos has just begun. Peasants were also elected there, but there were very few of them. The plot of the picture is simple – the painter wanted to show the difference in the social status of members of one zemstvo. The picture shows a small town in the province, the building of the Zemstvo Council. The members of the zemstvo elected from the peasantry sat down to dinner, not at tables in stuffy rooms, but in the fresh air. Surely they are ashamed of the neighborhood with noble zemstvo deputies.
Some of the peasant deputies have already eaten and are sleeping, while others continue their meal with simple village food – bread, salt and green onions.
In the window of the office, you can see a waiter who cleans up the dishes. By this, the artist shows the contrast between wealth and poverty. Each peasant at the door of the Zemstvo Council, Myasoedov wrote very carefully, gave each individual features: one looks slyly, with a cunning one, the other – with nobility, a sense of his own dignity, and in another look there is an insult.
Looking at this picture, one involuntarily recalls Nekrasov's poem "Who Lives Well in Russia". The author does not speak directly about social injustice and inequality, he invites viewers to think about it.
Year of painting: 1872.
Dimensions of the painting: 74 x 125 cm.
Material: canvas.
Writing technique: oil.
Genre: genre painting.
Style: realism.
Gallery: State Tretyakov Gallery, Moscow, Russia.