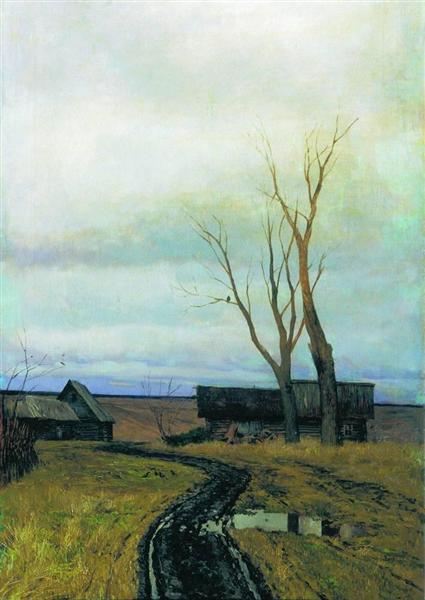 Today, Isaac Levitan is considered not just a painter, but a genius creator of Russian landscapes. He is ready to love nature and blooming and wretched. The painting "The Road in the Village" depicts a miserable, unpresentable and sad landscape. The author showed just such a period of autumn. Nature is saturated with nondescript, gray and dark colors. The picture uses faded and completely nondescript shades.
The picture shows late autumn with cloudy weather. The leaves from the trees have long fallen. The dirt road is completely washed out by the rains. It causes sadness and pity when you imagine how difficult it is to move a horse on it, and what to say about a person. The road is placed in the foreground, in the center, then meandering, goes into the distance.
On the sides of the road, there are bushes of dry grass, which looks like a bright spot against the background of dull autumn gray. A dark strip of road almost halves the lower part of the painting. On the right side is a large puddle of strikingly clear water. The artist emphasized its mirror effect, this technology is used by most authors. Not far from this there are two huge trees, they already have no leaves at all, which makes them look helpless. These two trunks represent the vertical perspective of the piece.
On both sides of the road there are peasant huts that look, like nature, miserable, pitiful and inconspicuous. Only a crow is alive, which has died down on a thin branch.
Dim and gray sky occupies a large space on the canvas. The bright blue color is present only in a thin stripe near the horizon. Soon it will snow, it will cover the tired earth and everything around will sparkle like in a fairy tale. Longing and sadness, as well as a huge love for their native places, is manifested in every touch of this work.
Year of painting: 1877.
Painting dimensions: no data.
Material: canvas.
Writing technique: oil.
Genre: landscape
Style: realism.
Gallery: State Tretyakov Gallery, Moscow, Russia.