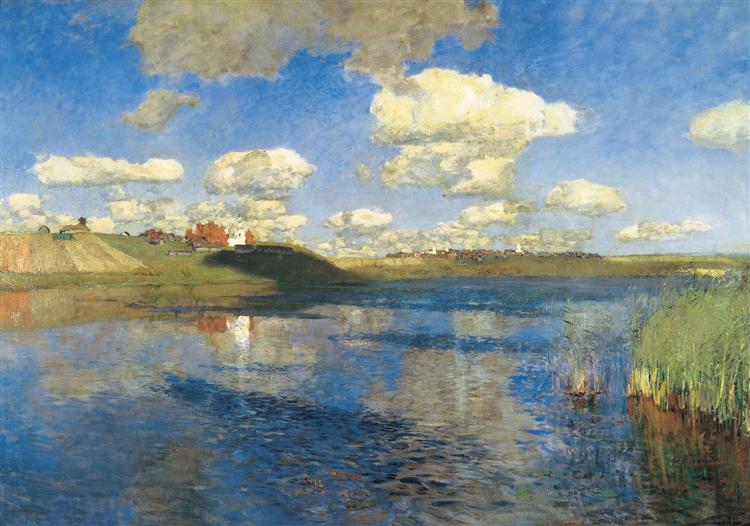 The last decade in the life of Isaac Levitan was especially fruitful. In the landscape "Lake. Rus "reflected the artist's reflections on the meaning of life. According to some reports, Levitan began work on this painting under the impression of Pushkin's poetry and managed to put all his love for Russia into this canvas.
The wide surface of the water reflects the clouds illuminated by the sun. On the far shore, as far as the eye can see, fields, villages, domes of churches. Everything in the picture – the sun, the wind, rushing clouds – is permeated with a feeling of happiness. It is hard to believe that this painting was painted by a dying artist. He seemed to want to say: "This is Russia, happy, free, as it can be and will be. Not poverty, not humility and suffering is the lot of Russia, it is all in the future. "
In this picture, Levitan especially brings the idea of ​​a pure landscape closer to the earthly life of a person. The joyful landscape of the painting, full of sunlight, air, with its solemn expanses of earth and sky, seems to be the personification of a holiday in the village. The painting shows a white bell tower standing on the high bank of the river. Soft clouds float above it, the sky seems especially blue and deep and, together with the clouds, is reflected in the deep water of the lake. There are also lush green meadows, bright autumn trees and yellow fields, and all this is filled with an uplifted, soulful sound. Looking at this picture, you involuntarily feel joy and pride for your land.
Despite the fact that this work of Levitan is not finished, the painting "Lake. Russia "even in this form, undoubtedly, belongs to the most significant works of the artist. Of course, this picture can be attributed to the painting of mood, such canvases are filled with a variety of human thoughts and feelings.
The master of lyrical landscape, the greatest artist Isaac Levitan was unconditionally accepted by his contemporaries. He managed to enrich landscape painting with poetic perception, a variety of themes and emotional depth.
Year of painting: 1899.
Dimensions of the painting: 208 x 149 cm.
Material: canvas.
Writing technique: oil.
Genre: landscape.
Style: realism.
Gallery: State Russian Museum, St. Petersburg, Russia.