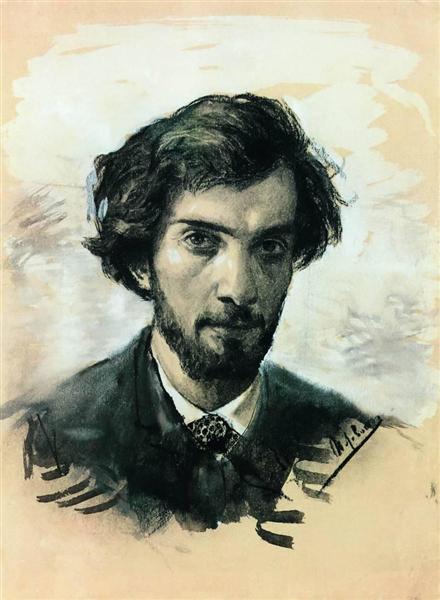 An early one, written in his youth in 1880, when skill, in all its glory, and recognition, had not yet come to him. At the time of writing the portrait, the artist is 20 years old.
A Jewish youth with typical southern features is looking at us. If we didn't know that the young man in the portrait, expelled according to the tsar's decree forbidding Jews to live in "primordially Russian" Moscow, was a resident of the Pale of Settlement, who had no right to live in big cities, we could assume that this is a character from the picture Karl Bryullov or Alexander Ivanov.
A cap of curly hair, a spread of eyebrows, huge inquiring eyes, a well-shaped nose, full, beautifully outlined lips and a refined face oval with a piercing beard, an Italian, a Greek, a resident of antiquity, such are the singing "Oh, Sole Mio! .." colorful gondoliers in Venetian lagoons.
The tilt of the head betrays a stubborn character, and the look … the clever look of a person who has survived a lot. At twenty, he had already experienced the death of his family, hunger, poverty. At twenty, he is obsessed with the desire to paint only nature, only trees, grass and sky. His class is taught by amazing teachers and brilliant landscape painters: Polenov, Perov and Savrasov, who teach him to write not only a tangible nature, but the air and voices of birds.
This self-portrait is not a painting, but a light brush drawing on paper, charcoal, whitewash and ink, combined with a soft warm tone of the background, creates the feeling of a painting. It is written, or better to say, drawn, as if in passing, quickly and sharply.
The strokes around the edge of the image are broad brush strokes. At the same time, the face and head are modeled, albeit freely, but in detail and in detail, conveying facial features and expression. A sober image is realistic: it is visible – poor, visible – an artist, visible – a Jew. The overall background is light, with black hair and a jacket forming a dark silhouette. The face itself is not tonal in the composition and the curls, and the beard frame it, giving the image a touch of romance and dramatizing it.
All social guidelines, the concreteness of the image, the virtuosity of the hand, but not yet conscious craving for freedom of expression, show, at such a young age, the future master.
Year of painting: 1885.
Dimensions of the painting: 62.3 x 47.7 cm.
Material: paper.
Writing technique: ink, wash.
genre: self-portrait.
Style: realism.
Gallery: State Tretyakov Gallery, Moscow, Russia.