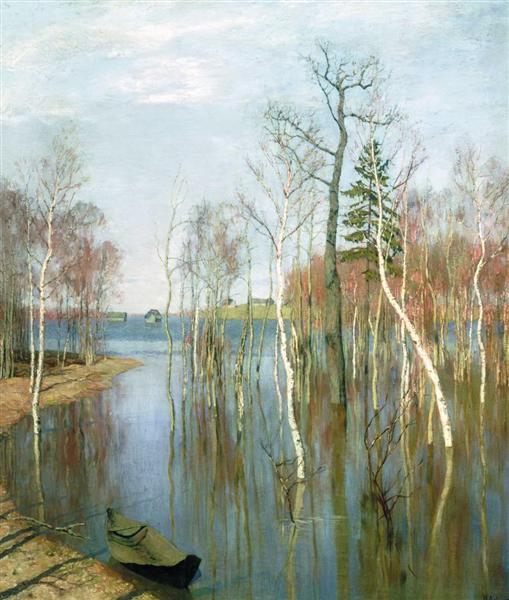 Isaac Levitan's canvas "Spring. Big Water "was written in 1897 and is one of the most significant works of the artist.
On the canvas, we see the river at the time of flood, when the water flooded the coastal areas – and a birch grove, and fields, and part of the village. In the river, calm and motionless, as in a mirror, hesitating, both the spring blue sky and the thin bare trunks and branches of trees are reflected.
In the foreground is a forgotten boat, and somewhere very far away there is a high coast with modest wooden huts and several flooded village buildings. Skillfully painted by Levitan, a narrow strip of the yellow-red coast – bending beautifully, he takes the viewer's gaze deeper into the picture.
Each tree, graceful, quiveringly curved, is painted by the artist with love and admiration. As if alive, touching and trusting birches are waiting for something good that spring will bring them. Admiring the thin birches and aspen trees stretching upward, the ringing high sky with thin clouds, as if you dissolve in the light of this bright sunny day.
The landscape is filled with light, clean colors, typical of Russian spring nature. The color of the canvas is formed by the finest transitions of shades: blue, green and yellow. The most diverse is the blue color – for the image of the sky and water, Levitan chooses the most varied shades: from milky white to dark blue. The yellow trunks of birches and their reflections, slightly trembling in the water, give the picture tremulousness, "airiness".
Painting by Levitan "Spring. Big Water "is imbued with subtle lyricism and poetry, it is unusually musical. The canvas tells about the spring resurrection of nature, and great light joy comes from it, filling us with optimism, tranquility and the desire to live.
Year of painting: 1897.
Dimensions of the painting: 64.2 x 57.5 cm.
Material: canvas.
Writing technique: oil.
Genre: landscape.
Style: realism.
Gallery: State Tretyakov Gallery, Moscow, Russia.