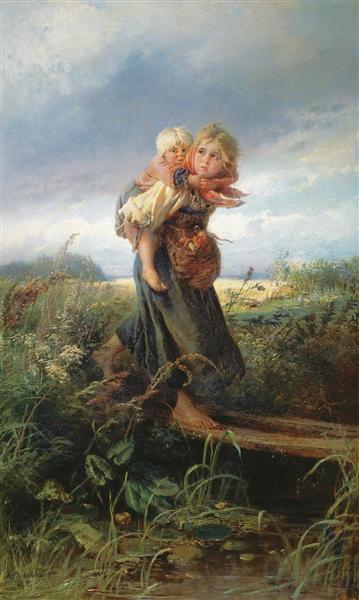 Konstantin Makovsky in his works often turned to the subjects of rural life, depicting the collective image of the Russian peasantry in the characters of the picture. The artist traveled a lot in the Russian outback, making sketches and sketches. One of such works is his widely known painting "Children running from a thunderstorm". For a long time, Makovsky was preparing material for painting a picture dedicated to peasant children.
The moment successfully captured by the artist perfectly conveys the feeling of an inexorably impending threat and the fright of young children. A girl in simple clothes runs along a dilapidated bridge thrown over a stream, carrying her little brother on her back. Apparently, the children were picking mushrooms in the forest behind them and suddenly discovered that a thunderstorm was about to begin. Their home is far enough away, and in the forest there is no shelter to escape from bad weather. You have to run as fast as possible so as not to get caught in the pouring rain.
The little boy on the girl's back tightly grabbed her neck with his little hands, and the older sister, in turn, holds him by the legs and hugs him. Fright is visible in the eyes of the children, the girl looks back at the dark cloud behind. What can they do, so small, against such a big bad weather?
Despite the overall dark color of the picture, it does not make a negative impression. In addition to heavy clouds, the author also depicted a blue sky and a yellow spot of a wheat field. This tells viewers that this story should end well. The rural landscape, pleasant to the eye and heart, is painted by the artist as realistically as possible, a small stream and a flimsy bridge thrown across it add a special Russian lyricism to the work.
Year of painting: 1872.
Dimensions of the painting: 167 x 102 cm.
Material: canvas.
Writing technique: oil.
Genre: genre painting.
Style: romanticism.
Gallery: State Tretyakov Gallery, Moscow, Russia.