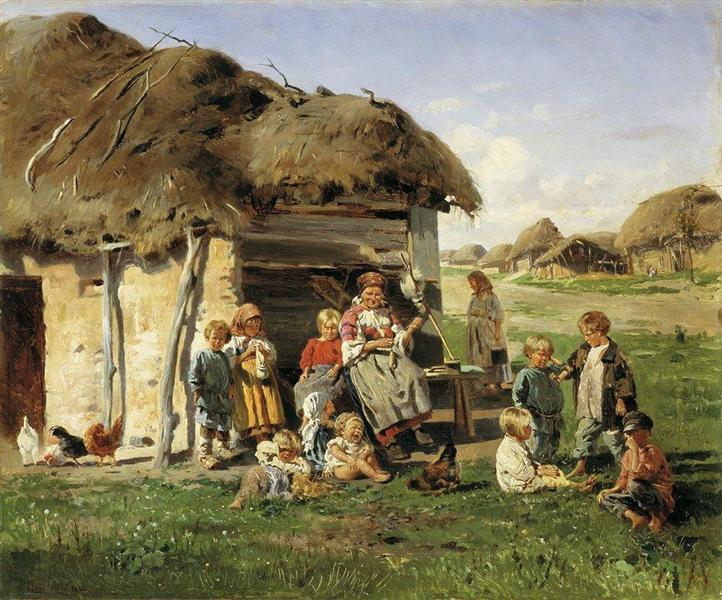 Vladimir Makovsky belongs to the realist artists. He was a member of the Itinerant Society. Makovsky's works are quite diverse. First of all, he is known as a genre painter. His paintings show without embellishment the life of peasants and workers at the end of the 19th century.
Makovsky often traveled in search of new images. He was especially inspired by Ukraine with its distinctive nationality and picturesque nature. The artist left a lot of works devoted to the Little Russian theme.
In the painting "Peasant Children" we see a Ukrainian village. They do not live well here. The houses are unsightly with typical thatched roofs. In the foreground, the artist depicted a group of children. Apparently, this is a village "kindergarten". The kids have not yet grown up to work on an equal basis with adults, they were left under the supervision of an old woman. Their parents work in the fields, so the village looks empty.
Children of different ages. There are very little ones, like the one who cries, sitting without pants on the ground. Another little boy is about to cry next to him. They probably want to go home to their mothers.
The older ones split into small groups. The boys on the right are engrossed in an interesting conversation. They consider themselves too old to be with the kids. The girls settled down next to the grandmother. One of them is passionate about needlework. The village children were early accustomed to hard work, which then accompanied them all their lives.
The old woman also does not sit idle. She is spinning yarn. The woman was thinking about something, but judging by her face, her thoughts were not cheerful. Chickens roam the yard. Nobody pays attention to them. In the background is a young woman with a bucket in a row of rickety houses. It looks like the girl is pregnant, so she stayed at home.
The picture leaves an ambiguous impression. On the one hand, we see the poverty of the environment. The plot makes you think about the hard life of the peasant. On the other hand, Makovsky portrays small children, cute in their spontaneity. The picture is very bright and sunny. A clear blue sky stretches over the Ukrainian village. It is contrasted with earthy houses and bright green underfoot. All together creates the effect of a quiet village half day and gives pacification to the viewer.
Year of painting: 1890.
Painting dimensions: no data.
Material: canvas.
Writing technique: oil.
Genre: genre painting.
Style: realism.
Gallery: Kharkov Art Museum, Kharkov, Ukraine.