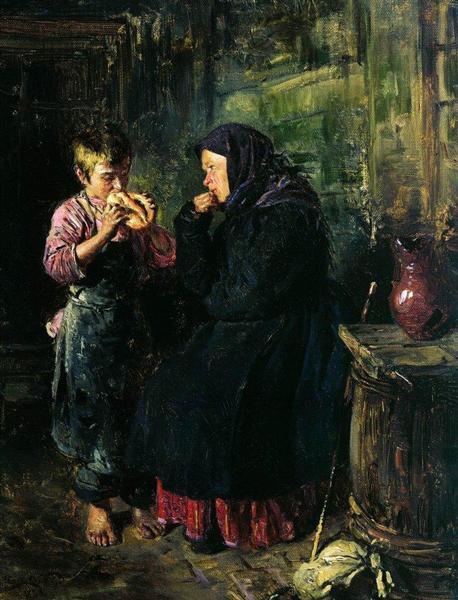 Painted in 1883, Vladimir Makovsky's painting "Date" is a typical work of Itinerant artists, describing the hard life of the common Russian people.
The artist depicted a meeting of a mother with her son in the painting. The mother – a typical peasant woman – came from the village to the city to visit her son, who is an apprentice. The sad look betrays her heavy feeling partly from rare meetings with her son, partly from fatigue. It can be seen that she parted with her son and gave him to an apprentice because of the great need for the family.
The boy greedily eats the roll that his mother brought him. He looks painful and serious beyond his years – it is clear that the working conditions are very bad – it is winter outside, and he has no shoes, only a dirty shirt and trousers from his clothes, the same dirty apron is thrown on top.
The meeting of mother and son also takes place in a rather dirty room with an earthen floor. The artist deliberately used dark colors in this painting to convey the special tragedy of the situation: it seems that the next meeting may not be. The plot about the tragedy of ordinary Russian people, often used by Itinerant artists, always resonates in the hearts of viewers, forcing them to sympathize and empathize with the heroes of the paintings.
Year of painting: 1883.
Dimensions of the painting: 40 x 31.5 cm.
Material: canvas.
Writing technique: oil.
Genre: genre painting.
Style: realism.
Gallery: State Tretyakov Gallery, Moscow, Russia.