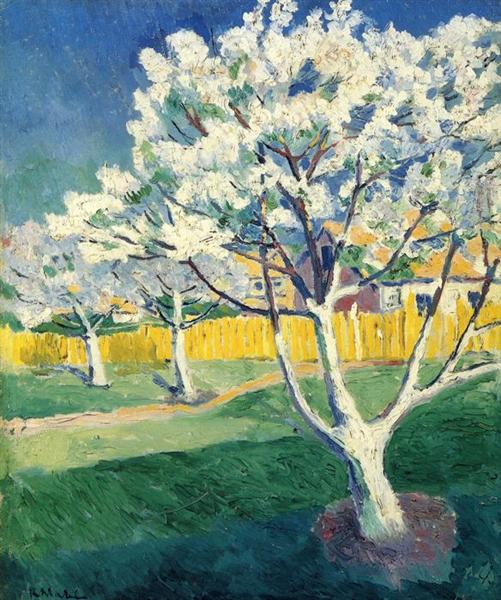 The paintings painted by Kazimir Malevich at the beginning of his career are very different from those canvases that we are used to associating with his name. During this period, the painter carefully studied the new trends in European art. First of all, he was interested in French impressionism, and the artists of this direction attached particular importance to color, its subtle changes caused by the intensity of lighting. Therefore, for the Impressionists it was important to work in the open air, in the open air.
In the spring of 1904 Malevich created a series of sketches from nature in the impressionist manner. He is attracted by the motives of spring flowering, in which he conveys the most complex shades of color and the play of light arising from the bright sun. The artist comes to the conclusion: the impressionists perceived the objective world as a pretext for creating a new pictorial reality. In his autobiography Malevich wrote that from that time on, reality for him became "not the phenomenon that needs to be conveyed, but a purely picturesque phenomenon."
In addition to the painting "Apple Trees in Bloom", this series also includes the paintings "Spring" and "Spring – Blooming Garden".
Year of painting: 1930.
Dimensions of the painting: 57.5 x 49 cm.
Material: canvas.
Writing technique: oil.
Genre: landscape.
Style: impressionism.
Gallery: State Russian Museum, St. Petersburg, Russia.