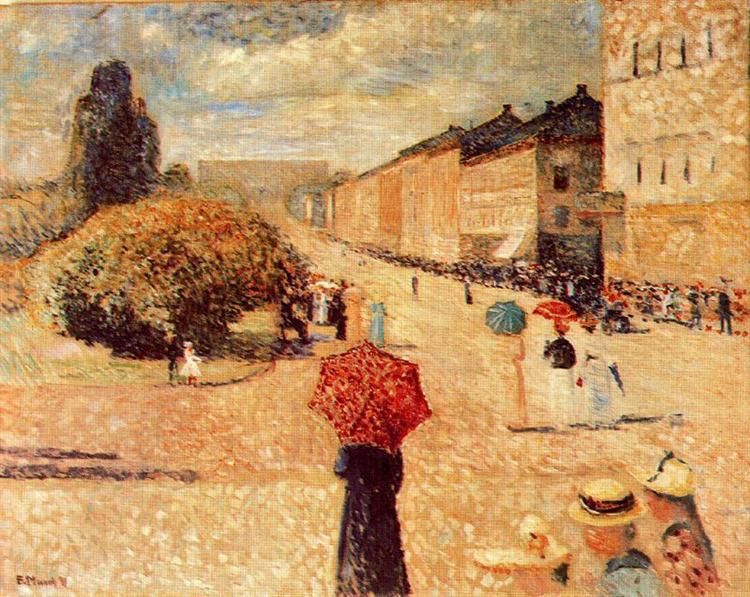 Edvard Munch's work "A Spring Day on Karl Johans Street", written in 1890 during the artist's stay in Norway, shows his work from a different angle. The painting clearly shows the influence of the Impressionists.
The picture is permeated with light emanating from all its points. The artist achieved this effect thanks to a special manner of painting: paints are superimposed in separate clear strokes – dots or strokes. The style of painting is impressionistic, but not composition.
The artist depicted on the canvas the main avenue of the capital of Norway – Karl Johans Gate, Karl Johans Street, a favorite place for walking for the most diverse audience. The painting shows the entire avenue, from the royal castle in the background to the Grand Hotel in the foreground right.
The dark blue line of the roofs echoes with the strolling public, forming two parallel lines in perspective. The main element of the central part of the composition is a woman with a red umbrella, standing with her back to the viewer. The contrasting colors with which Munch portrayed the woman set her apart from the general plan and the atmosphere of the scene.
Year of painting: 1890.
Dimensions of the painting: 80 x 100 cm.
Material: canvas.
Writing technique: oil.
Genre: genre painting.
Style: impressionism.
Gallery: Bergen Art Museum, Norway.