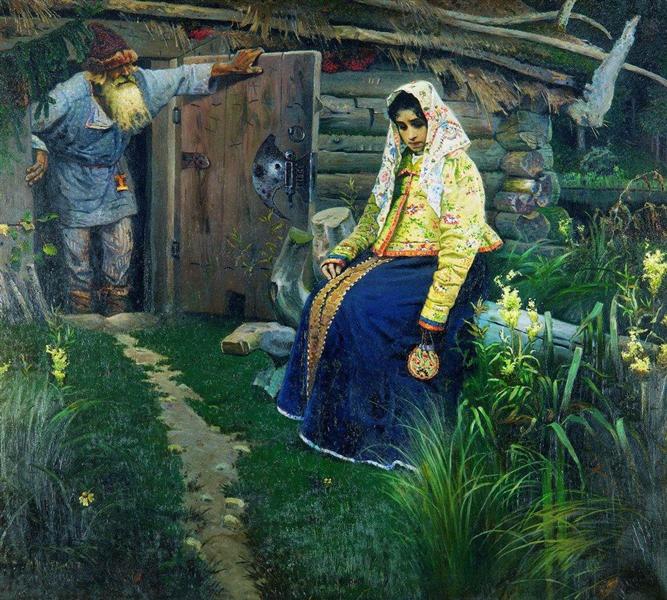 At the beginning of his career, Mikhail Nesterov was close to the Itinerant artists, but after the death of his young wife, who died when he was only 24 years old, he turned to Art Nouveau with elements of fairy-tale images, and a certain thoughtful, aching sadness settled forever in his portraits of women …
In the painting "For a love potion", written in 1888, Mikhail Nesterov depicted a small meadow surrounded by large trees in the forest, on which there is an old wooden house, leaning to one side. The door of the house is open, and an ancient old man in a hat, which can be seen on the head of wizards, looks out. And near the house, on a log, sits a young girl. It can be seen that with sadness in her heart she came here, some kind of misfortune led her to the forest sorcerer.
The girl depicted in the picture is shyly sad, with a mournful face, looking down, appeared for help in matters of the heart to the old sorcerer and froze in indecision, as if doubting the correctness of her deed. And she walked, you see, from afar, tired – she sat down on a deck, untied a handkerchief … But the old man, who looks like a fairy-tale woodsman – with a long gray beard, in a warm hat pulled over his forehead, looks slyly: he has seen a lot in his lifetime, bent back, red girls with the same secret aspiration. Everything is known in advance, but each must suffer in her own way … The handkerchief on her head has strayed to one side, but it is not up to her now: her feelings are too strong. She does not look at the owner of the house – and so she knows that he knows everything about her. She came to the forest sorcerer to ask for a love potion – to return the love of her dear lover.
It is known that Nesterov spent a lot of time searching for ideas and writing this picture. In the first version, instead of a forest sorcerer, the girl came to a German doctor, but the artist was not satisfied and he began to look for other options. The painting changed many owners and in the end it was transferred to the Radishchev Museum in Saratov.
Year of painting: 1888.
Painting dimensions: 125 x 142 cm.
Material: canvas.
Writing technique: oil.
Genre: genre painting.
Style: symbolism.
Gallery: State Art Museum named after A.N. Radishcheva, Saratov, Russia.