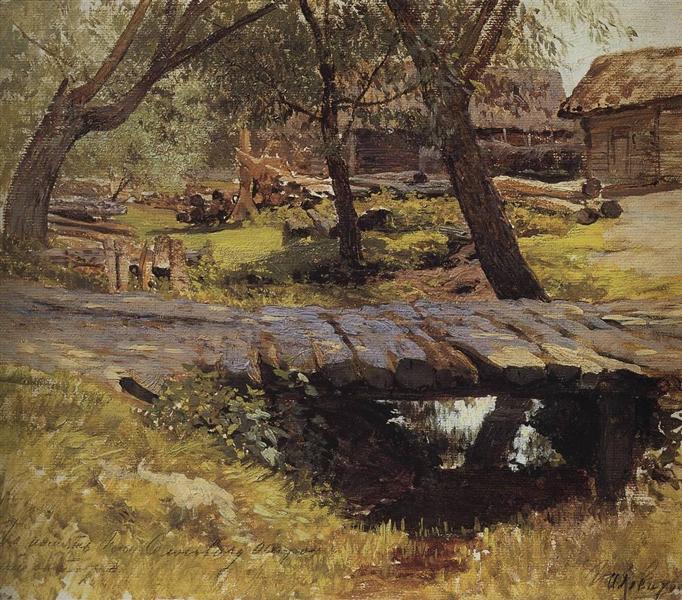 Painting "The Bridge. Savvinskaya Sloboda "was written by I. Levitan in 1884. This is an amazingly lyrical landscape with a rich inner content. The hand of the great master turned the nondescript motif of the village backyards into a real lyrical novella.
In the foreground of the picture, we see a simple log bridge over a small babbling brook running away into the distance. In the background there are small village houses, firewood scattered around in disorder. Apparently, the employee was away somewhere for a short time.
A bright sunny day, everything is surrounded by young lush greenery. The air itself is glowing, soft. The bridge casts a shadow on the surrounding greenery, on a stream, and everything around it shimmers in the rays of bright sunlight. It would seem that it was an ordinary bridge, ordinary firewood – and how much color, how much poetry!
Landscape "Bridge. Savvinskaya Sloboda "is as if penetrated through by sunlight. In this work, Levitan achieves an unusual sonority of color, a special combination of colors and a special color rendering. This sunshine, radiance, transparency of the air gives an ordinary rural landscape a special poetic mood, lyrical charm and spirituality.
Looking at the canvas, together with the artist we admire the harmony of nature, rejoicing in the spring renewal, and we learn to understand her soul.
Year of painting: 1884.
Dimensions of the painting: 25 x 29 cm.
Material: canvas.
Writing technique: oil.
Genre: landscape
Style: realism.
Gallery: State Tretyakov Gallery, Moscow, Russia.