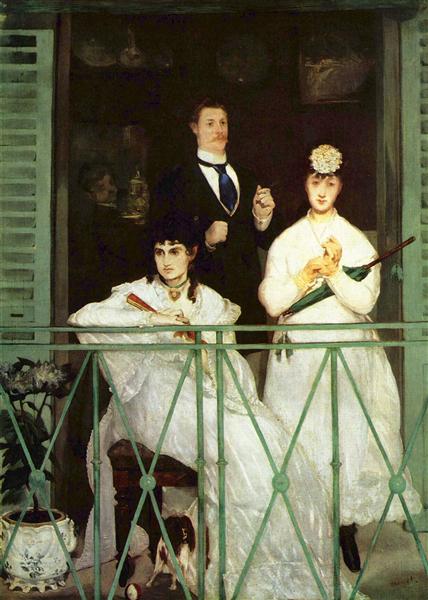 The artist Berthe Morisot, whom Edouard Manet met in 1868, became the inspiration for the artist to paint the painting "Balcony". The challenge is so successful that not a single critic has written a negative response to it. Bought almost immediately after writing, for a long time it belonged to one artist, and after his death it ended up in the Orsay Museum, where it is located to this day.
The painting depicts a scene on the balcony of a French house. The balcony is fenced in for safety – the artist used deep green tones for his image. Manet focuses the viewer's attention on two women sitting on the balcony. History has preserved their names: one of them standing at the door is Fanny Klaus, a violinist. The other, shown on the left and sitting on an ottoman, is Edouard Manet's muse Berthe Morisot.
The bright white dresses of the women contrast strongly with the rest of the furnishings depicted by the artist. The tall man behind the women is Antoine Guillemé, one of the most popular Parisian artists and contemporaries of Manet.
The artist was inspired to create this canvas by Francisco Goya's painting "Mach on the Balcony" – the paintings are very connected in terms of composition and plot.
Year of painting: 1869.
Dimensions of the painting: 170 x 124.5 cm.
Material: canvas.
Writing technique: oil.
Genre: genre painting.
Style: realism.
Gallery: Musée d'Orsay, Paris, France.