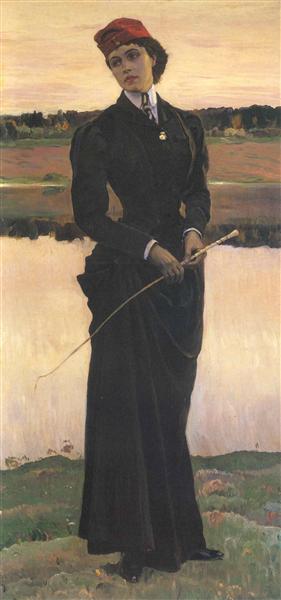 Of the same person, Nesterov often writes two successive portraits, initially analytical, then summarizing the study. In his portraits-generalizations, Nesterov often resorts to the techniques of a new style: the selection of certain features of the model that reveal its essence, the expressiveness of the silhouette or the characteristic of the gesture, reaching the grotesque, decorative stylization, and spiritualized color.
In the portrait of Olga's daughter, Nesterov's gift of poetic generalization and a keen sense of style were clearly manifested. The idea for the portrait came about by accident. Once Nesterov saw his daughter at the moment of returning from a horseback ride and asked her to stop and pose as she was, in an Amazon and with a flexible whip in her hand. The artist worked on the figure and face of a girl in the courtyard of a house in Ufa. But for the background of the portrait, he chose a different landscape, having painted for him a sketch on the Belaya River in the vicinity of Ufa. Nesterov made many sketches, but he finished the portrait in Kiev. Since Olga was not in the city, E.P. Nesterova. At this time, the lower part of the picture was completed.
The compositional nerve of the portrait-painting is the contrast between the elongated, highly elegant dark vertical silhouette of the Amazon, emphasized by the narrow vertical format of the canvas, and the light evening landscape built on repetitions of horizontal lines. Parallel horizontal lines bring peace to the landscape, and at the same time they fragment the portrait as if into separate frames, imparting dynamics to the basically static image.
The evening landscape is nesterovian elegiac. The fading pink-golden colors of the sky, reflected in the motionless surface of the river, make the grass bluish-green, cast cold reflections on the girl's romantically pale face. Her lips seem even brighter, the color of which is emphasized by a crimson cap.
The Amazon appears as a lonely dreamer, with a graceful and mysterious soul, responsive to the beauty of nature and art. She became a collective image of a woman of the "end of the century." Fragile, sophisticated, elegant, akin to Blok's stranger, "breathing spirits and mists," she went down in the history of Russian art as a favorite heroine of Symbolism. She added herself to the gallery of wonderful images of Russian women from Levitsky's "Smolnyanka", the heroines of Rokotov and Borovikovsky to "Girl with Peaches" by Serov and the girls of Borisov-Musatov.
It's hard to believe, but it was so – in the Soviet era, the poetic Amazon Olga Nesterova was a prisoner of the "Gulag Archipelago".
Year of painting: 1906.
Painting dimensions: 175 x 86.5 cm.
Material: canvas.
Writing technique: oil.
Genre: portrait.
Style: symbolism.
Gallery: State Russian Museum, St. Petersburg, Russia.