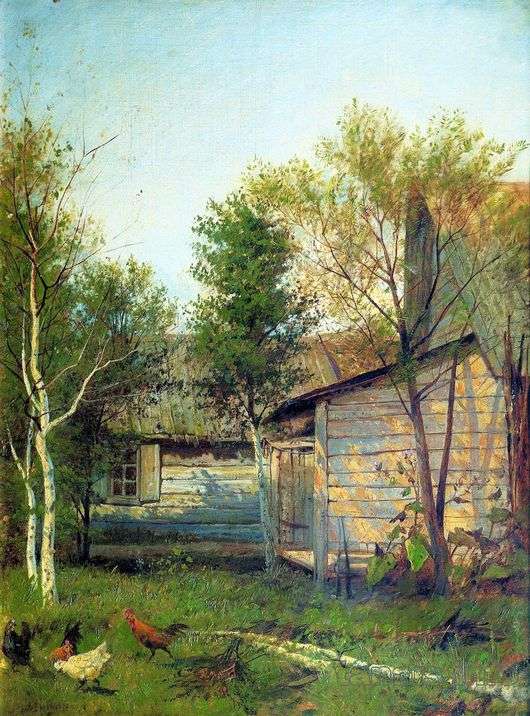 The painting "Sunny Day. Spring "was painted by Levitan at an early age, while the artist was studying at the Moscow school of painting, where his favorite theme was landscapes. This love matured in the aspiring artist for a reason – his teacher was Alexei Savrasov, a man who understands the world around him and knows how to convey its delicate unsteady beauty. Their relationship gradually grew into friendly, Savrasov was able to plant in the soul of his student the ability to see natural beauty and the ability to invest a part of himself in his work.
This landscape work of the great Russian landscape painter is remarkable for its amazing lightness and airiness. The painting shows a fragment of a peasant yard with buildings and trees. Domestic birds are walking around the yard: a rooster and several chickens. The courtyard itself is in the shade, but bright sunspots are visible on the walls, and the young, only blossoming foliage of the trees is illuminated by the spring sun.
Russian nature has always inspired Levitan, from a trip to Europe he writes about how he misses his native land and makes the conclusion that a real landscape painter can only grow up in Russia.
Year of painting: 1876.
Dimensions of the painting: 53 x 40.7 cm.
Material: canvas.
Writing technique: oil.
Genre: landscape.
Style: realism.
Gallery: private collection.